---
Groups - Events - Adventures
---
Catalina Rendezvous 2000 Pensacola
by Paul Whallon
As I look at the photos from the Catalina 2000 Rendezvous, many fond memories come to mind. First, I am not a "clubby" type of person, yet this was really fun. It didn't matter if you showed up with a 22 or a 470. The idea was to get Catalina people together and have some fun. And fun we had.
Due to logistical problems, I was not able to bring my new 25, "Essayons". She's my third Catalina. Instead, I brought our Caravelle 175 bowrider. It didn't matter to the rally folks that "Essayons" stayed home. I was welcomed with open arms.
Friday night, the party began with a tent reception and open bar at the Rod and Reel Marina. We partied hearty till after midnight. Pam, from Turner Marine registered us and gave out gifts of magazines, hats, and things. The evening weather was really nice, in the 70's and breezy.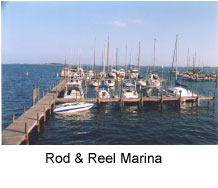 The Rod and Reel Marina is a very low key and friendly place. George, the manager, is a very soft-spoken, laid-back guy. His staff is very friendly and fun to get to know. Upstairs is a self-service bar that offers beer and snacks to the patrons. The air-conditioning felt great to get out of the daytime heat.
The marina had plenty of slips available for arriving boats. They also have a launch ramp, travel lift, and secure dry storage as well as a maintenance yard. The slip rates were reasonable and available with power and water hook-ups.
Saturday morning started out with a seminar on refrigeration and water making. These new portable refrigerators would work great on any boat that had minimal electrical generating power. The new water makers only draw one ampere per hour and will crank out 220 gallons a day. Having spent the week in at the beach , I learned quickly about the need for fresh water. It would have been miserable without access to plenty of fresh water. . I may put one on my 25.
The second seminar was with Frank Butler, the founder of Catalina Yachts. He graciously answered questions and told us that his initial plan was to build 300 Catalina 22's. Currently, they have built over 70,000 boats. WOW! He is constantly working on new designs and has a great staff to assist him. His Vice President, Sharon Day, has been with Catalina for 26 years. When asked "How long will it take to get a new 310?", Sharon answered "one year, we are running at maximum capacity." Frank laughingly refuted saying that they are not at capacity yet. They seem to have a great rapport.
I was particularly interested when Sharon said they have considered building a motorsailor. I encouraged them to do so as I like motorsailors. However, Mr. Butler said that Catalina Yachts would never build a cruising catamaran. So don't look for a Catalina catamaran at your local sailing center.
After Mr. Butler's session, we broke for the skippers' meeting to organize the "fun" race. The "fun" race started at staggered times. The purpose of having the faster boats starting later than the slower boats was to have all the boats finish at the same time. This way everyone could get to the bar at the same time. There were two Catalina 36s, two Catalina 27s, two Catalina 30s, a Catalina 470 and a Catalina 28 contending for first prize.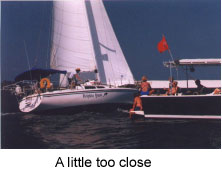 Joe Dumas, the skipper of a Catalina 36 named "Dolphin Quest", did a great job of buzzing the committee boat. He came within about 10 feet of their stern.
The winner was a 1973 Catalina 27. The skipper has only owned this boat a few months and was thrilled to be the winner. In the background a few grumblers could be heard remarking about the staggered start. You go skipper! It was all in fun.
At 6:00 p.m. the dinner started. We enjoyed a spicy Cajun boil of shrimp, red skin potatoes, corn on the cob, gumbo, white rice and bread. The open bar was cooking with, Dale, a cockney bartender and a gas to talk to. He'd say to the gals, " Ello love, ave a drink will ya?" Or something like that.
A local band played oldies, blues, pop, and improvised the "Catalina Blues" to overwhelming applause. The dancing went on for hours. While dancing, three people tripped and fell right into the beer and wine cooler. Big splash, big laugh.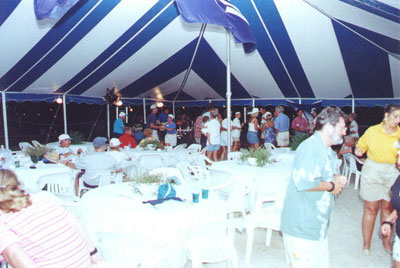 Mr. Butler and his entourage stayed late as well. Mrs. Butler was dancing with the Catalina owner's kids, including my two boys. They were tearing it up. In other words, it was a great party. When we left around midnight, the party was still going strong.
At 8:00 a.m., breakfast was provided for all Rendezvous attendants. We said our good-byes and exchanged email addresses to keep in touch of the new friends that we had made that weekend.
I want to thank the folks at Turner Marine for hosting such a great event. They worked hard to make the weekend enjoyable for all of us. And a gracious thank you to Frank Butler and his staff from Catalina. It was nice to see how interested they are in us owners. I feel they care very much about our satisfaction. A special thanks is also extended to George, from Essex Credit, who sponsored the Friday night bar.
Another Rendezvous is planned for next year. Check the Catalina web page at www.catalinayachts.com for dates and other upcoming events. Don't miss out.
Good sailing to all,

Paul Whallon
C25 "Essayons" #5931
Submitted: October 9, 2000
---