When we moved up from a Catalina 22 to Nauti Duck, a Catalina 250, we had one goal in mind – the ability to go cruising in the islands off the coast of Washington and British Columbia. Just 350 miles up Interstate 5 from our home in Eugene, Oregon, the San Juan Islands and Canadian Gulf Islands are a cruisers' paradise. The islands are beautiful, the waters are sheltered and there are many things to do including hiking, fishing, whale watching and sight seeing.
We go cruising for two weeks each fall right after Labor Day. This gives us summer-like weather and yet the crowds of summer are gone. Last year we sailed the San Juans so this year we decided to spend our time in the Canadian Gulf Islands. Cruising in the waters of another country added an additional element of adventure for the crew - my wife Pat, daughter Jean and I.
Towing the Nauti Duck to Cap Sante Marina in Anacortes, Washington takes about 8 hours. This is our favorite departure point as it has excellent facilities, a lift for launching the boat, and the town of Anacortes is both picturesque and full of stores to provision for the trip.
From Anacortes, we headed WNW to Sucia Island. A steady 12-15 knots breeze from the north and smooth rolling seas greeted us as we entered the Rosario Strait. The 250 points well and we were able to make good progress north with a series of long tacks. Once clear of Orcas Island, we made 5 to 5.5 knots on a beam reach to Sucia. Sucia is a Washington State Marine Park and well deserves its title as the "jewel of the San Juans." We picked up a mooring ball in Echo Bay for two nights. After rowing the dinghy to shore we hiked around the island using the well established trail system through tall evergreen forests and enjoyed panoramic vistas.
When we cruise we like to alternate between marine parks and marinas. Not only does this provide a variety of experiences for the crew but it also accommodates the limited water and holding tanks of a small cruiser. After two days at Sucia the crew was ready for some amenities.
Our next destination - South Pender Island - lies about 11 miles west of Sucia. The winds were light from the west and the current was running 2 to 2.5 knots against us so the day's sail involved lots of tacking, sail adjustment and slow progress. Late in the afternoon we arrived at the resort of Poet's Cove. Poet's Cove has a reputation as a luxury marina resort and it did not disappoint. After checking through Canadian customs we took advantage of the heated pool and hot tub. A delicious seafood dinner on the veranda of the Poet's Cove hotel overlooking the marina was made all the more special by a beautiful sunset.
Our next stop was the village of Ganges on Salt Spring Island, just a short sail away. As luck would have it we were once again sailing against the current but the weather was beautiful, the wind was steady and the crew kept the main and 135 genny full. It was the kind of day cruisers dream of. Entering Ganges Harbor, however, is like sailing in a minefield. There are crab pots everywhere and a series of rocky islets line the eastern side of the channel leading into Ganges Harbor. A set of current charts from the Canadian Hydrographic Service is a must. I recommend the Gulf Islands Chart Kit 3313.
Ganges is famous for its Saturday Market. The open air market is located in a park overlooking the harbor and is loaded with local art, crafts and food. Ganges Harbor has several marinas and many boats anchored out as well. We took a ride in our dinghy to look around the harbor – all the while keeping out of the way of the many seaplanes that land and take off from Ganges Harbor!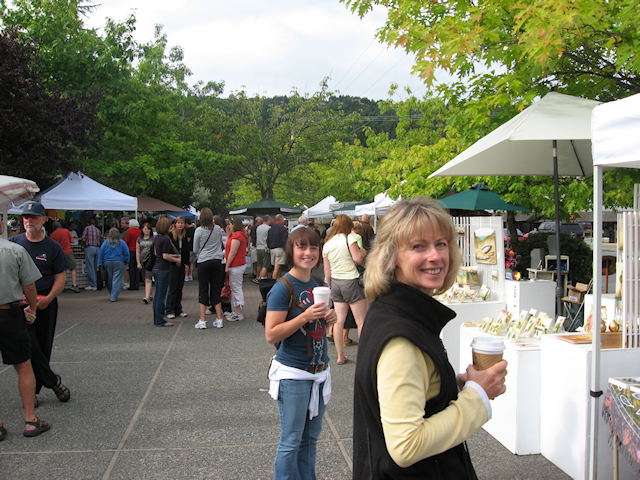 Montague Harbor, on Galliano Island, is about five miles east of Ganges. As we cleared the harbor at Ganges, the wind was kicking in hard from the northeast and soon the rail was in the water. The helm was getting heavy so we opted to reef the main and pull the jib in a bit. We use two-line reefing, which allows for a quick and effective set. The Nauti Duck, now more firmly on her feet, responded by reaching 6.5 knots and we arrived at Montague Harbor in just over an hour. As always, the crew members all wore PFDs, harnesses and tethers while on deck.
While Montague Harbor is known for its Provincial Marine Park and natural beauty, the crew of the Nauti Duck was looking forward to riding the famous Pub Bus to the Hummingbird Café. The Pub Bus is an old school bus that takes passengers from the marina to a charming restaurant about five miles away. Passengers on the bus are treated to oldies music – we rocked to Chubby Checker – and a barrage of jokes from the bus driver. We enjoyed every minute of the ride and a delicious meal at the Hummingbird Café. If you are anywhere near Galliano Island then you must treat the crew to this adventure.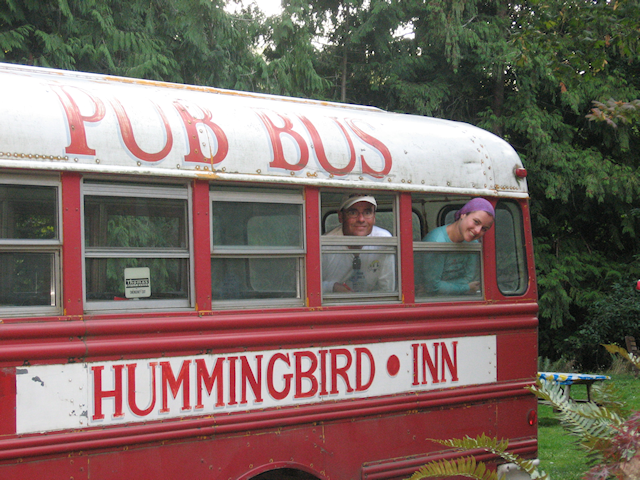 A word of caution when sailing in the Canadian Gulf Islands - there are few pumpout facilities. Even marinas such as Poet's Cove and Montague Harbor did not have pumpout stations for waste. Water can also be scarce. Montague Harbor Marina, for instance, did not have showers. Plan accordingly.
With our water tank near empty, and the holding tank near full, we headed off for Sydney on Vancouver Island. There was not much wind to fill our sails on the long leg southwest to Sydney so we opted to motor. Still, just off Galliano, we raised the mainsail. We had learned on earlier cruises that is pays to raise the main even when motoring. Using the main in this way adds about 1 knot of speed and feels a lot better than just motoring!
Sydney is a bustling town and has lots to offer. The Port of Sydney Marina is first class and it was a delight to walk the docks, admiring the many beautiful yachts and the awesome views of Mount Baker looming in the distance. We took advantage of the excellent public transportation system to catch an express bus to Victoria. Victoria is the capital of British Columbia and has a distinctly foreign feel to it. Victoria Harbor is framed by the Parliament Building and the elegant Empress Hotel. We enjoyed "high tea" at the Empress and then a walk along the harbor, which took us by a picturesque community of houseboats. Our day trip to Victoria was a highlight of the trip.
At this point we had been out for nearly two weeks and it was time to start the journey back to Anacortes. We departed Sydney early in the morning to cross Haro Strait for a stop at Roche Harbor on San Juan Island. A good northern breeze helped the sail east and we were able to reach San Juan Island on a long reach. The crew did not have to do a lot on this leg so they turned their attention to cooking nachos on the stern grill and keeping an eye out for orcas. A "super pod" of orcas had recently been plying these waters. We did not spot any orcas but were treated to a pod of Dals Dolphins and a variety of sea birds.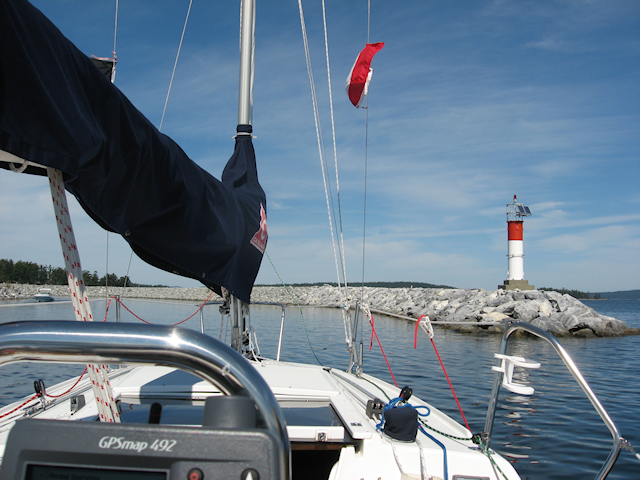 Roche Harbor is a "must see" in the San Juans and is also a US Customs site. After clearing Customs we enjoyed lunch on the deck of the historic Haro Hotel. Then we cast off and wove our way east through Wasp Pass and Harney Channel. Just before nightfall we arrived at Spencer's Spit, a Washington Marine State Park, and picked up a mooring. We had read a lot about Spencer's Spit but were still surprised by its beauty. I'll never forget the sight of Washington State ferries, their decks aglow with lights, silently gliding back and forth in the distance that night. It was magical.
After a nice hike on the spit this next morning we departed for Anacortes. The sail across Rosario Strait was aided by brisk northerly winds and we had another long reach. Rosario Strait is a major shipping lane and is frequented by large cargo ships and ferries. Both captain and crew must be attentive to traffic at all times and monitor VHF 16.
We arrived back at Cap Sante Marina shortly after noon. Two hours later the Nauti Duck was on her trailer and we were headed home.
We are often asked what it is like to cruise on a 25' sailboat. Our answer is that it is fun and easy if you follow some simple rules. First, limit the distances between stops so that the crew has time to get on shore each day. Second, plan the cruise so that stops at marinas can be used to replenish the boat's systems. Third, have the boat equipped with good electronics including a GPS chartplotter, VHF radio, and depth meter. Fourth, pack judiciously and be organized so that the cabin is not full of gear and clothing. Finally, be flexible and willing to adjust plans as dictated by the weather or the wishes of the crew.
Heading south on I-5 we were sorry to have our trip end but the memories will last many years and we know that our Catalina 250 will take us on many more cruises in the years ahead.
submitted by: Randy Kolb
Date: December 2008